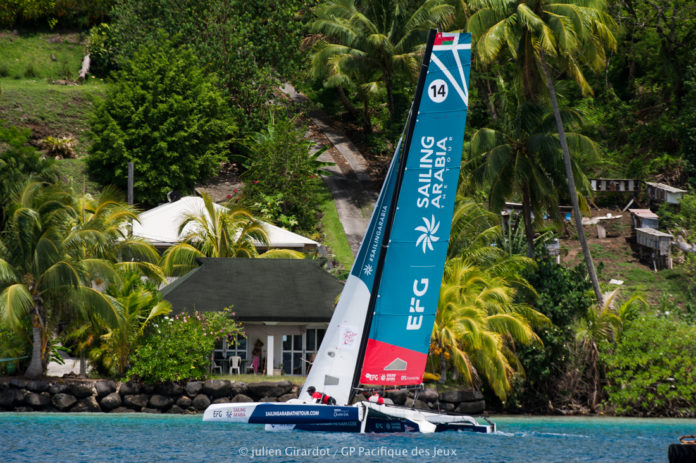 For Oman Sail : the Diamant d'OR for 2019 !
For the first time this year, a World Diam Tour ranking has been established from the ranking obtained with the three main international meetings. It's the team Oman Sail, directed by Stevie Morisson, who won at the end of a dense season. Stevie and his team came third on the l'EFG Sailing Arabia The Tour, in February, before finishing 4th on the Tour Voile in July. The season finished last week on the occasion of the Grand Prix Pacifique des Jeux, in French Polynesia. « I did all this season with Abdul but nothing would have been possible without this great team, with Nick Asher, Thierry Douillard, Mathieu Richard, Olivier Gandon, Loïck, Suleiman and  Ali Al Balushi. It's a beautiful team» has lauded the new Briton.
As from next year, the boat Oman Sail will show at the top of  its main sail the Gold Diam, distinctive symbol of the reigning world champion, Cheminées Poujoulat will be wearing the Silver Diam and Beijaflore the bronze Diam.
World Diam Tour 2018

Final racine after SATT, TV2018 and GPPJ

Place

Nom Team

Points

1

AVERDA-TEAM OMAN SAIL-Sailing Arabia / EFG

173,6

2

CHEMINEES POUJOULAT

161,2

3

BEIJAFLORE

157

4

Sailing Arabia / EFG

140

5

LORINA Mojito – GOLFE DU MORBIHAN

131,8

6

LORINA – GOLFE DU MORBIHAN

130

7

CER 2 VILLE DE GENEVE

129,8

8

VIVACAR.FR

125,6

9

LA BOULANGERE – DB Schenker

109,4

10

TEAM RESEAU IXIO

109,2

11

TEAM FRANCE JEUNE

91

12

DUNKERQUE VOILE

88,4

13

HOMKIA / NIL / LES SABLES D'OLONNE AGGLO

85,8

14

SAINT-MALO / SNBSM

78

15

PINK LADY – PAYS DE L'OR – HERAULT

75,4

16

TEAM OCEWOOD.FR #WATER FAMILY

72,8

17

HELVETIA BLUE BY NORMANDY ELITE TEAM

70,2

18

HELVETIA PURPLE BY NORMANDY ELITE TEAM

67,6

19

WEST TEAM – UNB – ECOLE NAVALE

65

20

TEAM NATIXIS / YC ST-LUNAIRE

62,4

21

BATISTYL – HABITAT

59,8

22

TOULON PROVENCE MEDITERRANEE

57,2

23

CER 1  VILLE DE GENEVE

54,6

24

MAISONS FRANCE CONFORT

52

25

BE. BRUSSELS – CARAIBOS

49,4

26

DELFT CHALLENGE

46,8

27

Trésors de Tahiti Pro

40

28

MOOD Collection

33,6

29

Merlin

30,4

30

RENAISSANCE

29,6

31

Trésors de Tahiti Espoirs

29,6

32

Team SCEAP 

28,8