Sailing, sport and speed in simplicity and safety !
The Diam 24 one design Concept
This new multihull was born from the following observations:
The last few editions of the Americas Cup have confirmed the interest in racing at high speed.
Whilst there are many large high performace Multihulls and many small athletic versions – there was no multihull sportboat
The technological developments in high performace sailing over the last 20 years have allowed faster and faster boats to be built with the proven qualities of the offshore prototypes.
Sailing like all other leisure activities needs to evolve
and its practice needs to be un constrained
Are you looking for new sensations, to sail differently and safely at speed, with a fine and balanced helm and with new tactics ?
Be you an avid racer or fun day sailor – The Diam 24 one design will meet your expectations.
An environment developed to facilitate your sailing
Designed to race on one design Class, a simple boat and easy maneuvers,
comfortable and safe for family sailing : The Diam 24od is a boat for everyone.
Super Simple Assembly/Disassembly
The Diam24od assembles and disassembles in 1 hr with 2 people.
Easy to Store
The Diam24od stores disassembled in a box. The D Box is a mini framed container great for keeping all of your boat components safe and together. Easily stored on the ground and moved by truck.
Easy to transport
Once disassembled the Diam24od is easily transported on a road trailer. The launching dolleys allow you to launch from a ramp or the beach.
Diam 24 one design, tested by the Best – adopted by all
Selected by the Tour De France a la Voile in 2015 – a revolution in equipment and format of racing.
Developed and optimised at Port La Foret by the elite of French Sailing. Voted "Boat of the Year 2017" – Overall Winner and Best Multihull – Sail Magazine – USA.
The Diam24od is a safe family day sailer, ideal for savouring the pleasures of high speed sailing and easy handling. Perfect for discovering that secluded bay or picnic beach. It is also a one design sportboat, simple and accessible for all, that allows you to discover multihull racing – around the buoys or on coastal distance courses.
A condensed list of essential qualities for a good « multi »
A stiff and rigid platform : The non folding beams gaurantee an uncompromised rigidity accross the beam.
A highly effective coupling mechanism (cones and sockets) keeping it ultra simple during assembly/disassembly
Autonomous handling – the overall size of the boat and it's components permits 100% manual handling. No mechanical assistance is required.
A balance of forces. A perfectly balanced helm makes the boat lively and seaworthy.
2 rudders – on each floater allow you to sail with the central hull out of the water – with a single central daggerboard for performance and saftey.
Simplicity. A clean deck plan, a minimised sail inventory – only the essential 3 sails (main ,Jib, gennaker).
The Diam24od inspires confidence to allow you to sail « with your head out of the boat » – to maximize your enjoyment of the speed, slide and glide.
Functional and well specc'ed Hardware Package : hooking mechanisms for the jib and mainsail, a 16 :1 cunningham, a fast and fine tune on the mainsheet, self tacking jib…
A rotating Carbon Mast, with spreaders, simple adjustable diamond wires, and sidestays.
Design brief : ADH Inotec  |  Naval Architect : VPLP  |  Calculations : VPLP et ADH Inotec
Mast : Length 11,5 m x rope 210 mm x thickness 100 mm
Rigging: Etai câble inox, Hauban textile.
Boom : long 3,1m diam 60 mm
Drift : length 2m x corde 350 mm
Navigation category : Seaside
Volume disassembled
Length : 7.3m    –  Width : 2.3m   –  Height : 1m
All the components are designed to fit inside the boat (In fwd. compartment and cockpit)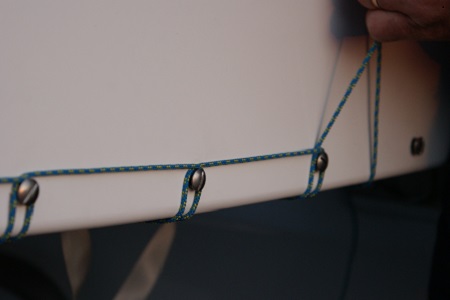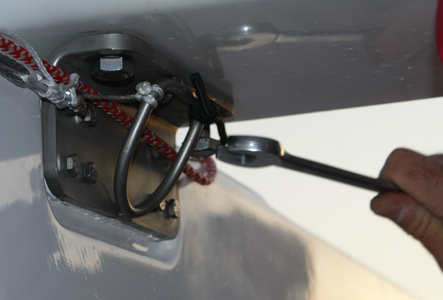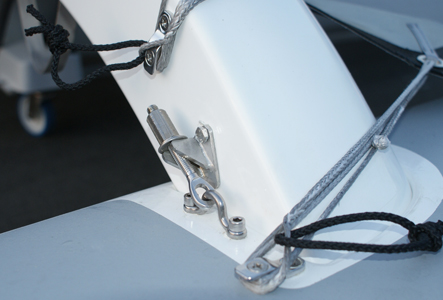 Choosing resin infusion ensures perfect repeatability in the production process.
Central Hull and floaters: Glass sandwich, pvc foam, Carbon UD reinforcements, polyester resin, gelcoat finish
Beams: Glass, pvc foam sandwich, Carbon UD reinforcements, epoxy resin, gelcoat finish
Foils: Glass sandwich, Carbon UD reinforcements, pvc foam, epoxy resin, gelcoat finish
Mast: Carbon, epoxy, textile side stays, wire forestay, finish – protective colour film
Sails: Mainsail and Jib membrane black aramid, Gennaker laminated polyester Cz
LIGHT, SPORTY, POWERFUL, FAST
The Diam 24 one design is made to race with three (or four) people.
Fast in light winds and safe in the breeze, without requiring great sporting qualities.
Our core values and guiding principles
• No compromise between design and technological innovation.
•  To share our passion for multihulls, democratize high-speed and safe sailing.
• Your satisfaction is our priority and we put all our energy into making our services perfect: 100% pleasure, 0% constraints.
• The Diam 24 od is designed to last over time, we strive to produce it while ensuring compliance with environmental standards.
• We favour direct customer relations, we optimize the services by qualified and trained local relays.
An innovative economic model
We believe that to develop a class, we need to encourage and support sailing local fleets.
A relationship direct with the manufacturer
To bring our sportboat to you at the best quality/price ratio, our distribution network has no intermediaries. The yard team is there to respond to your project – as we know each one of you are unique. We are available and reachable by telephone.
Developing and sustaining the inter generational "Diam24od" Network
Allowing everyone to have an active place in the network, to find crew members easily, to sail together in local geographical fleets, to organize the calendars and travels, to become Ambassadors …. Together we grow.
Local Service based on proximity
Local Agents represent the yard and the class, informing owners and offering advice, organising training/coaching and proposing services around the boat : maintenance, assembly/disassembly, storage, transport, delivery of spares and work carried out with accredited sailmakers and repair facilities.
Orders by internet, delivery by the network
BECOME PROVIDER
Come and navigate in D24od
Take part in the development
Receive your card
Winning gifts
BECOME AGENT
Take your place in the network
YOU'RE A TECHNICAL SERVICE PRO
Become an authorized agent
Gaining in activities
You're always at 200%?
Simplify your week-ends, go to the essentials, navigate with "Easy Regatta"…
Easy Regatta, what's it for, who's it for? Everything evolves, everything changes, the practice of regatta too!
Starting from the observations that our professional and family lives leave us little time, how to prepare your regatta programme, maintain your boat/sportboat, move it or convoy it… Gathering your crew, training… For all these reasons many people give up their pleasure of racing. "Easy Regatta" has the principle of leaving the sailing and the regatta to you and entrusting us with all the logistical and material organization…