This current month of June saw the Stockholm Archipelago raids when the sun almost no longer sets in our high-latitudes. Both these three days raids, at the heart of the Scandinavian islands, have enabled the Diam 24od to be seen under its best assets : an accessible boat which allows everyone, professionals and amateurs, to taste the thrills of high speed racing on a multi-hull boat, all this amidst a breathtaking decor.
For this first « three-hulls » edition, the Stockholm Archipelago has gathered a public of heterogeneous-levels friends. In the plane coming from Paris, there was a pinch of experts but mostly amateurs and even some novices who have been mainly asked to «pull the sheets » than to « harden the sails ».
Some, who are well aware of not meeting with the required level to win the Tour de France à la Voile, have felt a bit anxious in front of this beautiful device holding its power while awaiting for the first breeze to releash the bows flames. Philippe Guigné, a regattas circuit veteran – contestant in one America's cup – has fallen in love at first sight with the machine. « It's a user-friendly boat, we never feel insecure and it's more easy to manage than any other boat » he sums up. The man analysis is that of an expert but has received total approval among the other contestants whose speedometers have pointed 20 knots from the very first day.
More of a cruising sailor than a regatta skipper, Pascal Stefani, has left behind his peacefulfamily  one-design for the Diam. He asserts : « clearly, we have out of norms salings sensations offered to non-experts », he praises « easy steering and navigation comfort. »
No capsizing anguish as well for the contestants. Of course when there's a will to turn over the boat there's a way, but « one must really push it hard to tension » rassures Éric who has never felt any lost of control over the boat.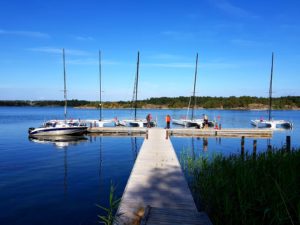 David Richard, the event organiser was satisfied as well with his choice. Fine connoisseur of the water body, he has been organising for a long time this meeting on catamarans and speak of the Diam 24od as an « exceptional boat ». Fast, easy, the trimaran has also shown its solidity when it came out unharmed from a bottom contact at full speed on scandinavian rocks .
The two groups of 15 skippers  have sailed throughout the Archipelagos  at full speed during three days, with transits in inns  at the end of each raid to « play again the matches» while enjoying the sceneries and the Swedish heartfelt welcome.  Barely their adventure completed, they are all keen about joining in the next one. To be continued !