The ADH Inotec team is enjoying the discovery of the boat's potential by sailing everyday to test her. The knowledge of the DIAM24OD is developing and after tacking in the Glenan Archipelago, the yacht proves to be a proper wind machine!  The sail back from the Glenan from Pierres Noires to Linuen (entrance of the bay) took only 28 minutes in 15 to 18 knots of wind until the last third of the course sailed in 8 to 10 knots. Our small rocket is as fast as a rib offering the stability, comfort and safety of a big boat. She accelerates and tacks like a small multihull combined with important speed. Marine, 10 years old, was one of the lucky ones to be on board and upon arrival declared: "It was great! I wasn't even scared!"
When the wind averaged 15 to 18 knots and the sea was heavy, the DIAM24OD gave an agreeable feeling of safety, was going well through the waves, was easy to skipper thus demonstrating that in your good hands, she can go very fast!
The launch of the second unit is upon us and it is anticipated with great excitement by the team!
To see the first exclusive video footage of the boat sailing, please click here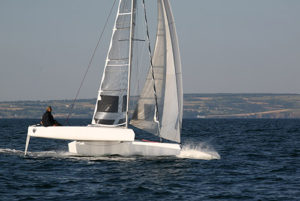 Prep sailing before the official presentation of the DIAM24OD! ©Loïc Madeline