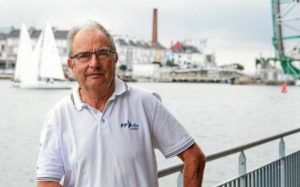 Servane Moreau: Can you introduce yourself in a few words ?
Jean Coadou: My name is Jean Coadou, I was born in 1948 in Aber Ildut, and today I live in Brest. I retired from the French Navy 15 years ago. I was in the National French Navy for 32 years. I started as a crew officer and ended my carrer as frigate captain. Today I am a member of the "Club Nautique de la Marine de Brest" where I am responsible of racing.
For the last 10 years, I was part of the jury on several regattas such as the Spi Ouest France, the Cap Istanbul, the Med Race, the Tour de Finistère, the Tour de Bretagne à la Voile…
SM: On what boats did you sail ?
JC: I mostly sailed professionally as a french Navy officer but I also raced with sailboats on a few regional regattas. 
I never before sailed on dinghies, catamarans or sport multihull. This is why sailing with the Diam 24 od was for me a totally new experience.
SM: What was your first impression of the boat ?
JM: On land, I thought it was beautiful and very easy to launch with a beach trailer.
SM: And at sea ?
JC: I thought the Diam 24 OD was excellent.
SM: How did you live this experience ?
JC: I fond this multihull very reassuring as I was never scared of capsizing, specially with our excellent skipper Joseph Brault, and we had some swell and a steady wind. We just had to find the right VMG for speed optimisation as it is not the same as a monohull.
SM: What do you think of the boat's performance ?
JC: I was agreeably surprised by its performances and its water penetration. Surprised at its ease at handling a rough sea. It's a fine tuned boat, and sensitive with phenomenal acceleration.
SM: What are the pros and cons of this boat ?
JC: The only negative thing I found about the Diam 24 is the noise generated by the drifts when accelerating – but at the same time – this is « cool » at it means we're going fast.
Apart form that, I only have positive feedback : its ease of use, its manoeuvrability, its fine adjustments, and the sensations at the helm. It's a reassuring boat with excellent water penetration. to conclude, it's an easy boat to put on the water and to transport on its trailer. The 3 of us took the Diam 24 OD out of the water from the Moulin Blanc slipway.
SM : What do you expect from this series and its program ?
JC : The advantage is that this multihull sail in monotype within its class. I think the rules should be simple and clearly defined to avoid eventual deviations. The class should be well managed and controlled from the start. 
SM : What would your conclusion be about this boat test ?
JC : I am delighted to have discovered trimarans and specially this one. The Diam 24 One Design is a playful boat that goes fast. This boat makes total sense for the public.